Workshop Diversity on our campuses, March 6, 2020
©ParisTech_Florence Lelait

Workshop Diversity on our campuses, March 6, 2020
©ParisTech_Florence Lelait

Workshop Diversity on our campuses, March 6, 2020
©ParisTech_Florence Lelait

Workshop Diversity on our campuses, March 6, 2020
©ParisTech_Florence Lelait

Workshop Diversity on our campuses, March 6, 2020
©ParisTech_Florence Lelait
Gender equality
The ParisTech schools take gender equality very seriously, not least because it ties in closely with new expectations about the workplace, the attractiveness of STEM subjects in higher education, and student welfare on campus.
Achieving gender equality means ensuring that people of all genders have equal rights, responsibilities and opportunities. The efforts being undertaken by the ParisTech schools in this area fall into three broad categories:
Helping companies to recruit more women to engineering positions, a goal which is driven by a number of factors. For instance, companies that employ more women enjoy a better reputation, especially among young people, and this helps them to attract the best talent. Alternatively, they might want to diversify their managerial practices or, on a more technical level, mitigate gender bias in the design and analysis of big data. In line with these corporate expectations, the ParisTech schools are actively seeking to increase the number of girls enrolling on their courses. It should be noted that AgroParisTech and Chimie ParisTech - PSL are slightly less concerned by this, because the proportion of female students at these schools is already more than 50%. This figure can be explained by the fact that these schools offer courses that are traditionally seen as more "feminine" subjects.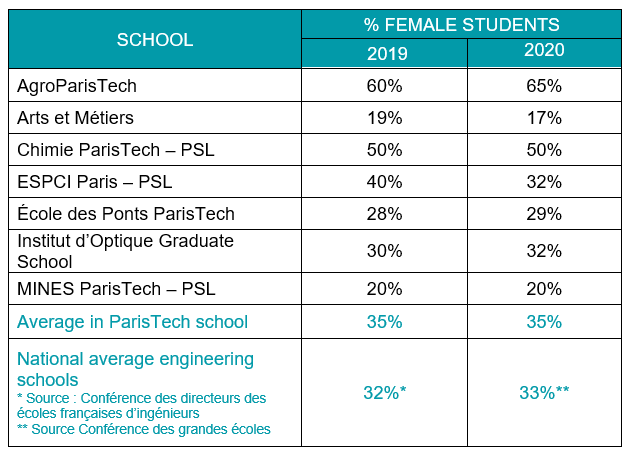 Encouraging more girls to pursue careers in engineering, for example through the "Cordées de la réussite" scheme whereby students from French universities and Grandes Ecoles arrange cultural activities and academic tutoring in STEM subjects for secondary school pupils. On average, across the various "Cordées" partnerships, 50% of the tutees – and 50% of the tutors – are girls. The benefits of this are two-fold. Firstly, it helps the younger girls progress in STEM subjects, which in turn encourages them to consider further study in this area. Secondly, realising they can succeed and seeing that other girls have gone before them boosts their self-confidence. By making STEM studies and careers more accessible to girls, the ParisTech schools are helping to challenge gender stereotypes and break down preconceptions relating to gender or social status. Find out more about the "Cordées de la Réussite" initiative here.
 
Ensuring an inclusive environment on campus with regard to socio-economic status, cultural background, disability and of course gender. As far as gender is concerned, the ParisTech schools are very attentive to gender relations on campus, and especially to the need to prevent and/or eradicate any instances of sexual harassment and violence and sexist behaviour. To achieve the latter, the ParisTech schools have identified two key success factors. Firstly, the school management bodies must play a leading role. Secondly, every single person (management, administrative staff, teaching staff, students, student societies) must be actively engaged in all of the actions implemented. This topic was the focus of a special workshop organised by the ParisTech Diversity Commission in March 2019. See below for a video summary and write-up (in French).
Examples of actions to promote gender diversity
"Sexual harassment and communication" workshop
On 18th March 2019, the ParisTech Diversity Commission held a workshop entitled "Sexual harassment and communication". The event brought together students, administrative staff and teaching staff and focused on two related questions: "What forms of sexual harassment and sexist behaviour are present in our schools? And what can we do to address the issue?" The session started with a round-table discussion during which attendees evaluated the current situation and shared accounts of their own experience. This was followed by small group discussions to reflect on best practices and identify possible solutions. The results of the discussions were summarised in a booklet of actions aimed at preventing sexual harassment, specifically within the context of the ParisTech schools.
Watch the video testimonials of the gender equality workshop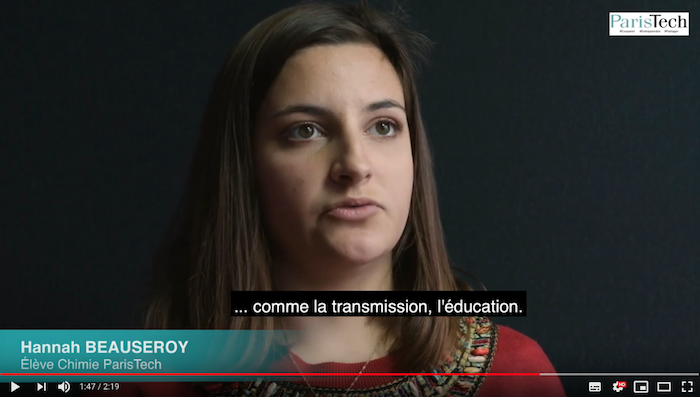 Click here to download the booklet of actions (in French).
Gender equality in ParisTech schools: