Classes at Mines Paris - PSL
©Mines Paris - PSL
Classes at Chimie ParisTech - PSL
©Chimie ParisTech - PSL
Our excellent education
The French higher education system is embedded in the European model and is organised in three programmes: Bachelor's, Master's and Doctoral.
In France the top qualifications in Engineering or Management are delivered by the Grandes Écoles.
These Grandes Écoles offer courses leading to the diplôme Grande École d'ingénieurs (MSc in engineering).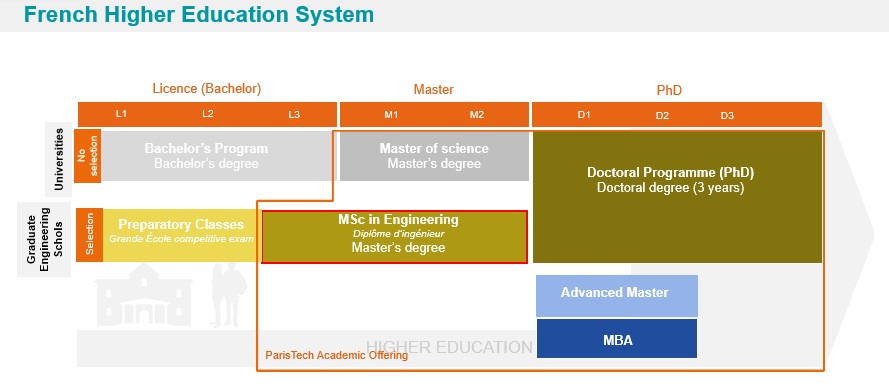 Excellent education which attracts the best students
ParisTech brings together the excellent engineering Grandes Écoles, which are acknowledged as the best in their fields, and are characterised by their high standard of education and the excellence of their teaching staff and laboratories.
They offer a wide range of academic programmes:
Diplôme d'Ingénieur (MSc in Engineering)

Doctoral programmes

The Diplômes Grandes Écoles deliver high-quality education which is distinguished by:
a competitive and selective environment on admission and throughout the course.

innovative teaching methods which combine theory and practice

strong scientific potential

close partnerships with business and the world of research

an international presence
ParisTech is also deeply committed to promoting the value of the doctoral programmes of its Grandes Écoles. High-quality research, international collaboration and technical innovation are at the heart of doctoral curricula.
STUDENT EXCHANGES BETWEEN SCHOOLS
Each of the ParisTech graduate schools offers different courses of study, focusing on specific areas. In 2008, the schools decided to implement an exchange system to allow their students to benefit from the wealth of disciplines on offer and acquire new skills in an environment related to, yet different from, that of their own school.
Different types of exchange are possible:
Final year: Students can opt to take the final year of their engineering degree in one of the other schools.
Repeat year: Students who are required to repeat a year can do so in a different school.
Substitution: Students can replace some of their course modules with modules of equivalent credit offered by one of the other schools.
Doctoral degrees: As part of the additional modules required for their thesis, doctoral students can take classes, teaching units or seminars of equivalent credit in one or more of the other schools.
DUAL DEGREE PROGRAMMES
Over the years, the ParisTech schools have developed a number of dual degree programmes. These are run either between different schools within the ParisTech consortium, or in conjunction with external partner schools. These dual degree programmes allow engineering students to:
Develop additional skills which complement those they acquire through their engineering course
Discover new, cross-disciplinary topics at national and international level
This means students are more flexible and versatile, and thus better equipped to meet the expectations of future employers. A candidate with a dual degree will have twice as many operational skills. Furthermore, he/she will have developed an open-minded approach, find it easier to adapt to new environments, be familiar with cross-disciplinary issues, and be more mature.
Between 2013 and 2018, 95 students completed a dual study programme within the ParisTech network. This included 25 engineers, 50 engineers on dual degree programmes, 14 master's students and 6 PhD candidates.